Low Temperature solution
In cold environment where TFT LCD Module displays very slow, that might cause misreading. Because of LC's physical characteristics, it will turn slowly and make the screen overlap. (figure 1)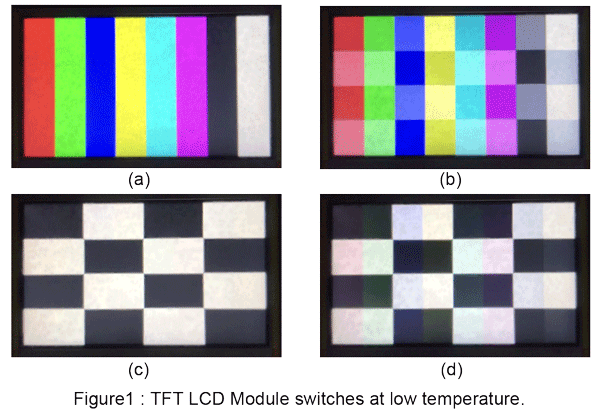 We put TFT LCD Module in Constant temperature and humidity machine and set the temperature at -40oC in figure1. See picture1 (a), it shows a stable color screen before switching; the screen will change after switching as picture 1 (b). This overlapped situation is due to LC's physical characteristic that it turns slowly at low temperature; the overlapped screen will become clear after a while, but you can still see the shadow beneath as picture 1 (c); Picture 1 (d) is the complete screen after switching. In order to prevent the problem above, you may need to add a Glass Heater onto your TFT LCD Module, raising temperature that help LC move orderly and make it display. EVERVISION is a professional TFT LCD Module manufacturer; we have great team to help our client to solve the problems. We invented a Transparent Heater to fit our TFT LCD Module so that it can show optimal screen even at low temperature. Our Transparent Heater is made base on glass, so we name it Glass Heater. Figure 2 shows the principle of operation. While directly current flows in ITO's resistance, it will turn electrical energy into heat. The smaller resistance is (the higher consumption power is), the more heat it can generate. The concept is similar to Traveling immersion coil. When we plug in Traveling immersion coil, the current will flow in metal and generate heat to boil water.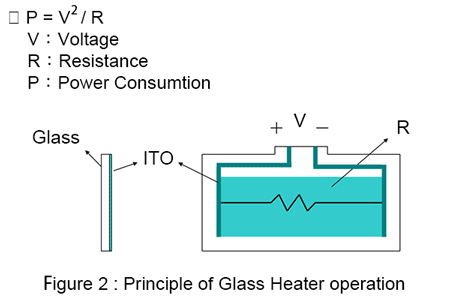 EVERVISION provides different thickness of Glass Heater form 0.4 mm to 1.1mm. There is another Transparent Heater which is made base on PET in the market. Comparing to Glass Heater (see table 1), EVERVISION's Glass Heater has higher transparency, better thermal Conductivity, heat and humidity resistant and etc.
Table 1 : Comparison between Glass Heater and PET heater.

Type

Glass Heater

Traditional PET Heater

BASE Material

Glass

PET

Price

Low

High

Tooling Charge

Low

High

Transparency

85%Min

75%Min

90%Typ

80%Typ

Thickness

0.4mm~1.1mm

0.2mm

Advantages

Higher transparency.

Lower unit price.

Heat and humidity resistant

Thin and light.

Durable in drop test.

Flexible.

Disadvantages

Weak in drop test compare to PET product.

Lower transparency.

higher unit price.

Weak in high temperature and humidity.
EVERVISION's Glass Heater can attach to our TFT LCD Module and IPCT. Apart from installing convenient, we save much time and guarantee quality for our clients with our profession. As figure 3, client can use connector and supply stable current to control TFT LCD Module. Let it work functional at low temperature.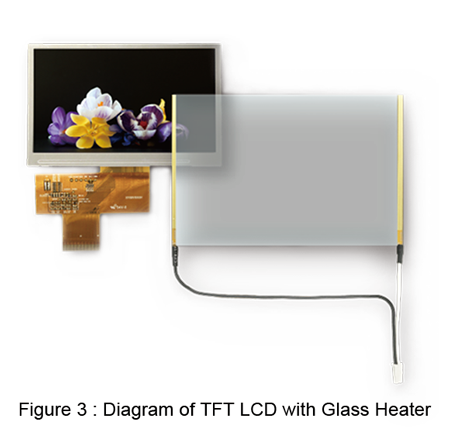 Table 2 shows the result of TFT LCD Module at room temperature and -40oC with/without Glass Heater. You can see TFT LCD Module displays functionally at room temperature. However, there is an overlapping at low temperature, because of LC's physical characteristics. From this experiment, we know that overlapping can be solved by turning on Glass Heater.
Table 2: Result of TFT LCD Module at room temperature and -40oC with/without Glass Heater.

Condition

Normal temperature

-40℃

-40℃/24H

Voltage

-

-

9V

12V

Switching Result

no overlapping

overlapping

no overlapping
Table 3 is the result of 9V/12V with Glass Heater .
Table 3:Result of TFT LCD Module with Glass Heater in 9V/12V at -40oC

Condition

-40℃/24H

Voltage

9V

12V

Current

650mA

830mA
We put Glass Heater on TFT LCD Module and heat it from -40oC, supply stable 9V, 12V. Figure 4 recorded temperature change of Glass Heater.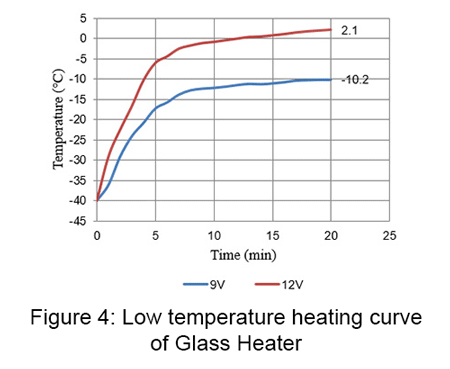 If you need any further information, please contact EVERVISION.