3.5 inch Ultra-wide Temperature TFT LCD, Touch Optional
Model No.
VGG322425-D(WT)
► QVGA (320×240 pixels) resolution
► Display in 16M colors
► Digital 24 bit parallel RGB + Serial Peripheral Interface (SPI)
► Line inversion mode with stripe type
► On-chip voltage generator
► SYNC mode is supported for digital RGB input data format
► This display has extended temperature range.

VGG322425-D is a 3.5 inch Ultra-wide Temperature TFT LCD corresponds wider ambient temperature application, supports TTL RGB interface. It can be operating at temperatures from -30~80 ℃ and storage temperatures range from -40~80 ℃.

EVERVISION has developed a series of wide temperature TFT LCD modules with operating temperatures ranging from -30°C to +80°C, and the maximum for some models can reach 85°C.
Resolution (dots):
320*240
Outline Dimensions (mm):
76.9*63.9*3.3
Brightness Level:
800 ~ 999
Brightness (cd/m²,typ.):
800 / 30khrs typ.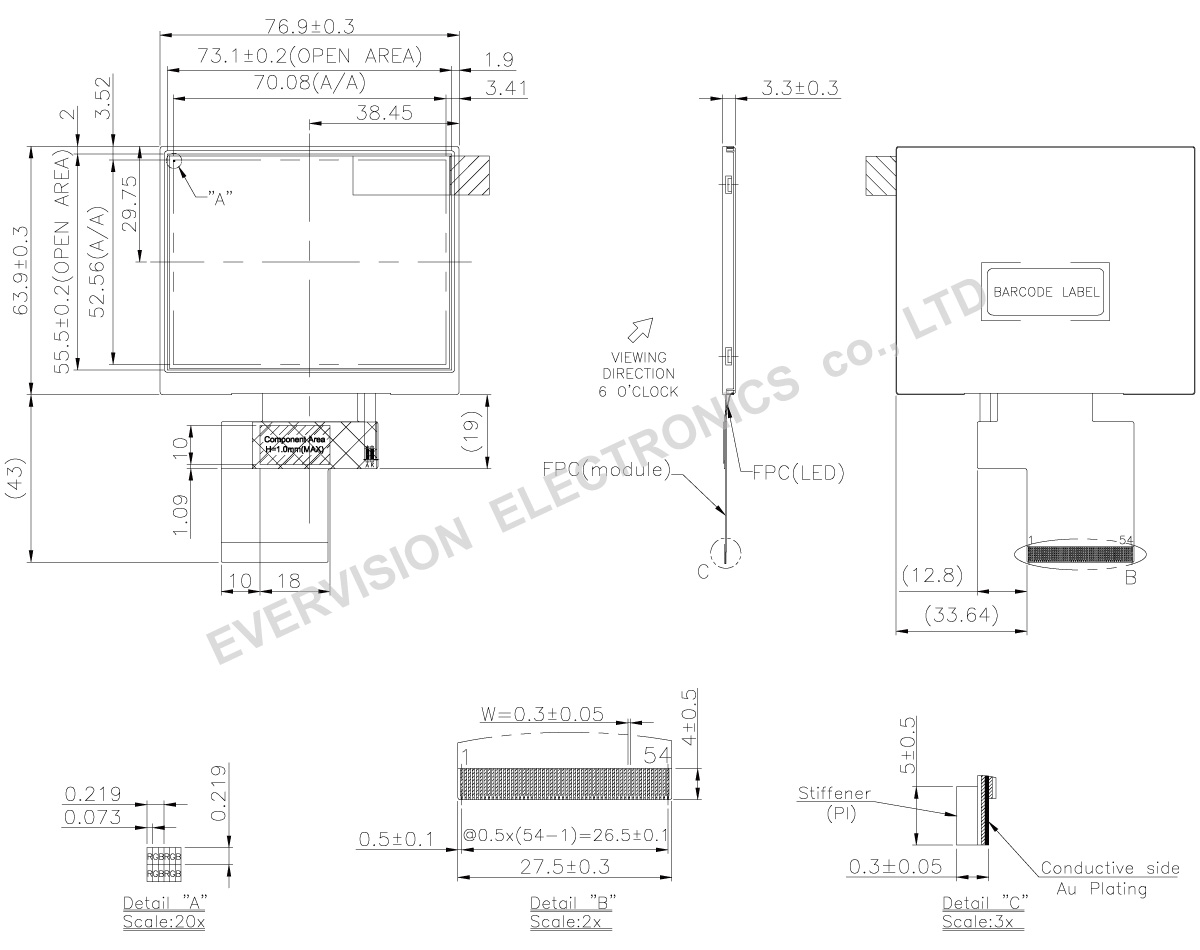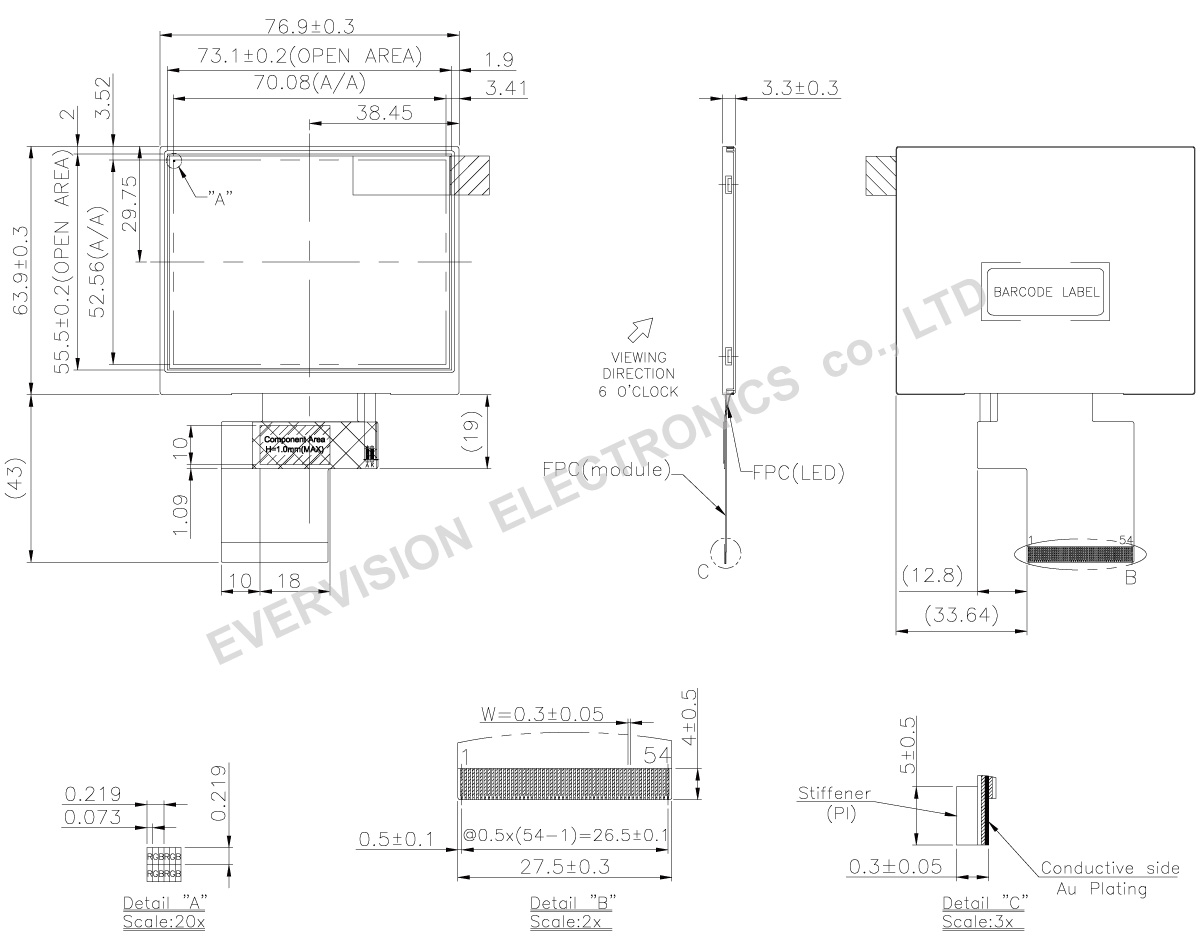 Absolute Maximum Ratings
| | | | | |
| --- | --- | --- | --- | --- |
| Item | Symbol | Min. | Max. | Unit |
| Storage Temperature | TST | -40 | +80 | °C |
| Operating Ambient Temperature | TOP | -30 | +80 | °C |
Electrical Characteristics(Ta=25±2°C)
| | | | | | |
| --- | --- | --- | --- | --- | --- |
| Item | Symbol | Min. | Typ. | Max. | Unit |
| Digital Power Supply Voltage | VCC | 2.5 | 3.3 | 3.6 | V |
| Input High Threshold Voltage | VIH | 0.8VCC | - | VCC | mA |
| Input Low Threshold Voltage | VIL | 0 | - | 0.2VCC | mW |
(GND=VSS=0V)
| | | | | | | |
| --- | --- | --- | --- | --- | --- | --- |
| Item | Symbol | Condition | Min. | Typ. | Max. | Unit |
| Digital Current | IVCC | VCC=3.3V | - | 15.3 | 22.0 | mA |
| Total Power Consumption | PC | VCC=3.3V | - | 51.48 | 72.6 | mW |
Backlight Unit (Ta=25±2°C)
| | | | | | |
| --- | --- | --- | --- | --- | --- |
| Item | Symbol | Min. | Typ. | Max. | Unit |
| LED Voltage | VL | - | (16.5) | - | V |
| LED Current | IL | - | (40) | - | mA |
| Power Consumption | PBL | - | (660) | - | mW |
| LED Life Time | - | 10000 | 30000 | - | hr |
Absolute Maximum Ratings
| | | | | |
| --- | --- | --- | --- | --- |
| Item | Symbol | Min. | Max. | Unit |
| Storage Temperature | TST | -40 | +80 | °C |
| Operating Ambient Temperature | TOP | -30 | +80 | °C |
Electrical Characteristics(Ta=25±2°C)
| | | | | | |
| --- | --- | --- | --- | --- | --- |
| Item | Symbol | Min. | Typ. | Max. | Unit |
| Digital Power Supply Voltage | VCC | 2.5 | 3.3 | 3.6 | V |
| Input High Threshold Voltage | VIH | 0.8VCC | - | VCC | mA |
| Input Low Threshold Voltage | VIL | 0 | - | 0.2VCC | mW |
(GND=VSS=0V)
| | | | | | | |
| --- | --- | --- | --- | --- | --- | --- |
| Item | Symbol | Condition | Min. | Typ. | Max. | Unit |
| Digital Current | IVCC | VCC=3.3V | - | 15.3 | 22.0 | mA |
| Total Power Consumption | PC | VCC=3.3V | - | 51.48 | 72.6 | mW |
Backlight Unit (Ta=25±2°C)
| | | | | | |
| --- | --- | --- | --- | --- | --- |
| Item | Symbol | Min. | Typ. | Max. | Unit |
| LED Voltage | VL | - | (16.5) | - | V |
| LED Current | IL | - | (40) | - | mA |
| Power Consumption | PBL | - | (660) | - | mW |
| LED Life Time | - | 10000 | 30000 | - | hr |
Pin No.

Symbol

Description

1

LED-

LED_cathode

2

LED-

LED_cathode

3

LED+

LED_anode

4

LED+

LED_anode

5

NC

No connection

6

NC

No connection

7

NC

No connection

8

RESET

Reset

9

CSB

CHIP SELECT

10

SCK

Serial Clock

11

SDI

Serial Data input

12

D20

Blue data(LSB)

13

D21

Blue data

14

D22

Blue data

15

D23

Blue data

16

D24

Blue data

17

D25

Blue data

18

D26

Blue data

19

D27

Blue data(MSB)

20

D10

Green data(LSB)

21

D11

Green data

22

D12

Green data

23

D13

Green data

24

D14

Green data

25

D15

Green data

26

D16

Green data

27

D17

Green data(MSB)

28

D00

Red data(LSB)

29

D01

Red data

30

D02

Red data

31

D03

Red data

32

D04

Red data

33

D05

Red data

34

D06

Red data

35

D07

Red data(MSB)

36

HSYNC

Line synchronization signal.

37

VSYNC

Frame synchronization signal.

38

DOTCLK

Dot Clock signal

39

NC

No connection

40

NC

No connection

41

VCC

For system power supply.

42

VCC

For system power supply.

43

NC

No connection

44

NC

No connection

45

NC

No connection

46

UD

Up/down scan setting.

("H": normal scan. "L": Up-and-Down reversal.)

47

NC

No connection

48

LRC

Right-and-Left scan setting.

("H" : Normally , "L" : Right-and-Left reversal)

49

GND

Ground

50

NC

No connection

51

NC

No connection

52

NC

No connection

53

GND

Ground

54

GND

Ground