7 inch TFT LCD Monitor, 800x480 Color TFT LCD, Touch Panel
Model No.
VGG804818-P
The VGG804818-P 7.0 inch tft lcd display monitor 800x480 touch panel screen with interface (TTL RGB), datasheet, pinout(50 numbers), Brightness 350 cd/㎡, capacitive touch panel, from Taiwan manufacturer supplier.

EVERVISION offers the rich diversity of mid-size TFT LCD modules, we are sure to have the perfect fit for your application requirements.
Resolution (dots):
800*480
Outline Dimensions (mm):
164.9*100.0*7.75
Brightness Level:
0 ~ 499
Brightness (cd/m²,typ.):
350 / 20khrs min.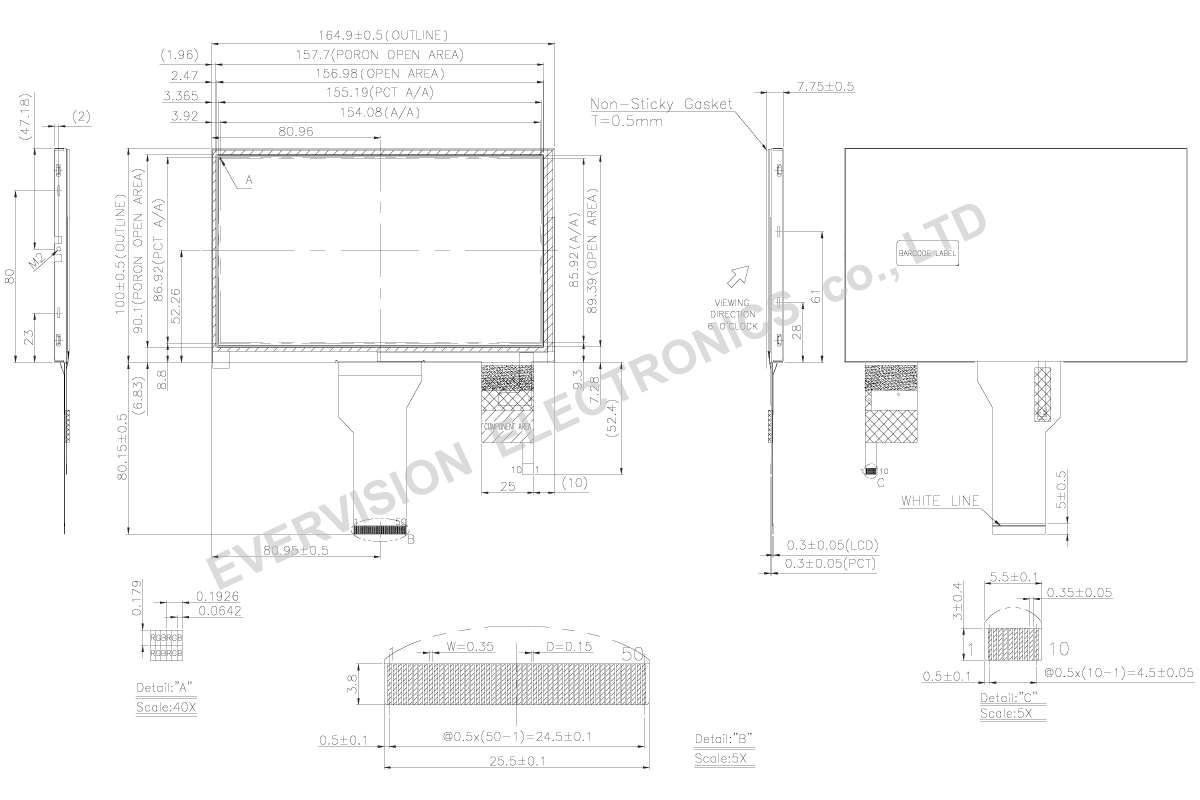 Absolute Maximum Ratings
| | | | | |
| --- | --- | --- | --- | --- |
| Item | Symbol | Min. | Max. | Unit |
| Storage Temperature | TST | -30 | +80 | °C |
| Operating Ambient Temperature | TOP | -20 | +70 | °C |
Electrical Characteristics(Ta=25±2°C)
| | | | | | |
| --- | --- | --- | --- | --- | --- |
| Item | Symbol | Min. | Typ. | Max. | Unit |
| Digital Power Supply Voltage | DVDD | 3.0 | 3.3 | 3.6 | V |
| Analog Power Supply Voltage | AVDD | 10.2 | 10.4 | 10.6 | V |
| Digital Power Supply Current | DIDD | 1 | 4.0 | 10 | mA |
| Analog Power Supply Current | AIDD | 5 | 20 | 50 | mA |
Backlight Driver Unit (Ta=25±2°C)
| | | | | | |
| --- | --- | --- | --- | --- | --- |
| Item | Symbol | Min. | Typ. | Max. | Unit |
| Current of Backlight Unit | IB | 170 | 180 | 200 | mA |
| Voltage of Backlight Unit | VB | 8.7 | 9.3 | 9.9 | V |
| Power Consumption | PBL | - | (1.674) | - | W |
| LED Life Time(25℃) | - | 20000 | - | - | hr |
Projected Capacitive Touch
Item

Symbol

Min.

Typ.

Max.

Unit

Note

Operating Voltage

VDD

3.0

3.3

3.6

V

-

Power Supply Current

IDD

-

20.5

28.7

mA

(1)

Output High Threshold Voltage

VOH

2.8

-

-

V

-

Output Low Threshold Voltage

VOL

-

-

0.8

V

-

Differential Input Sensitivity

|(D+)-(D-)|

VDI

0.2

-

-

V

-

Differential Input Common Mode Range

VCM

0.8

-

2.5

V

Power Consumption

PL

-

67.65

94.71

mW

@5.0V

Report Rate

RR

-

60

-

Hz

-

Interface

I2C

-

Function

Multi Touch

-
Note (1) This test condition is touched with 5 points
| | | |
| --- | --- | --- |
| Pin No. | Symbol | Description |
| 1 | VLED+ | Power for LED backlight(Anode) |
| 2 | VLED+ | Power for LED backlight(Anode) |
| 3 | VLED- | Ground for LED backlight(Cathode) |
| 4 | VLED- | Ground for LED backlight(Cathode) |
| 5 | GND | Ground |
| 6 | VCOM | Common voltage |
| 7 | DVDD | Power for Digital Circuit |
| 8 | MODE | DE/SYNC mode select |
| 9 | DE | Data Input Enable |
| 10 | VS | Vertical Sync Input |
| 11 | HS | Horizontal Sync Input |
| 12 | B7 | Blue data(MSB) |
| 13 | B6 | Blue data |
| 14 | B5 | Blue data |
| 15 | B4 | Blue data |
| 16 | B3 | Blue data |
| 17 | B4 | Blue data |
| 18 | B1 | Blue data |
| 19 | B0 | Blue data(LSB) |
| 20 | G7 | GREEN data(MSB) |
| 21 | G6 | GREEN data |
| 22 | G5 | GREEN data |
| 23 | G4 | GREEN data |
| 24 | G3 | GREEN data |
| 25 | G2 | GREEN data |
| 26 | G1 | GREEN data |
| 27 | G0 | GREEN data(LSB) |
| 28 | R7 | RED data(MSB) |
| 29 | R6 | RED data |
| 30 | R5 | RED data |
| 31 | R4 | RED data |
| 32 | R3 | RED data |
| 33 | R2 | RED data |
| 34 | R1 | RED data |
| 35 | R0 | RED data (LSB) |
| 36 | GND | Ground |
| 37 | DCLK | Sample clock |
| 38 | GND | Ground |
| 39 | L/R | Left / right selection |
| 40 | U/D | Up / down selection |
| 41 | VGH | Gate ON Voltage |
| 42 | VGL | Gate OFF Voltage |
| 43 | AVDD | Power for Analog Circuit |
| 44 | RESET | Global reset pin. |
| 45 | NC | No connection |
| 46 | VCOM | Common Voltage |
| 47 | DITHB | Dithering function |
| 48 | GND | Ground |
| 49 | NC | No connection |
| 50 | NC | No connection |