5.7" TFT LCD, 640x480 LCD Panel, Touch Panel Display
Model No.
VGG644804-G
► VGA (640×480 pixels) resolution.
► Digital 18 bit parallel RGB.
► Dot inversion mode with stripe type.
► LED drive circuit is built in this module to provide PWM Dimmer function
► Transparent Touch panel
- 4-Wire
- Analog Resistive

Color display TFT, Normally Brightness, Other Special, RTP, With Touch Panel | 5.7 inch VGA TFT, 640x480, 700 cd/㎡, with Resistive Touch Panel | Highest Quality, Lowest Price! Contact EVERVISION today for your custom projects!

EVERVISION offers the rich diversity of mid-size TFT LCD modules, we are sure to have the perfect fit for your application requirements.
Resolution (dots):
640*480
Outline Dimensions (mm):
144.0*104.6*14.5
Brightness Level:
500 ~ 799
Brightness (cd/m²,typ.):
700 / 50khrs typ.
Touch Panel:
RTP (4 wire)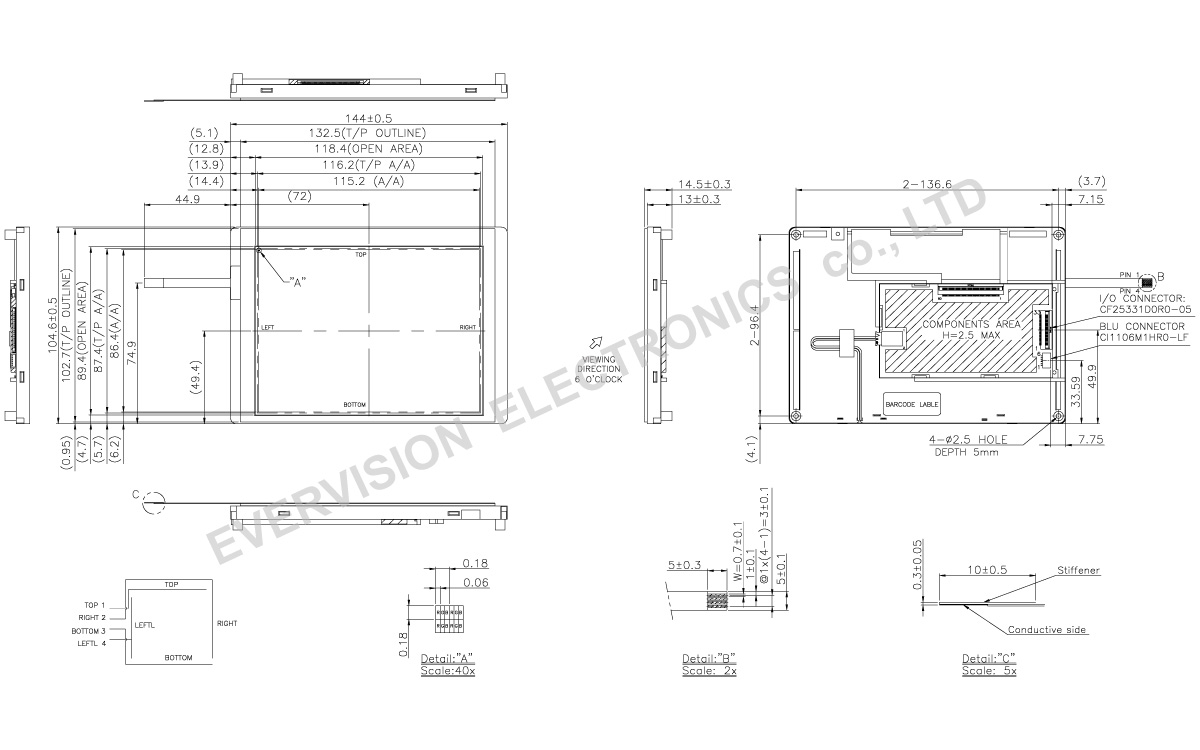 Absolute Maximum Ratings
| | | | | |
| --- | --- | --- | --- | --- |
| Item | Symbol | Min. | Max. | Unit |
| Storage Temperature | TST | -30 | +80 | °C |
| Operating Ambient Temperature | TOP | -20 | +70 | °C |
Electrical Characteristics (Ta=25±2°C)
| | | | | | |
| --- | --- | --- | --- | --- | --- |
| Item | Symbol | Min. | Typ. | Max. | Unit |
| Power Supply Voltage | VCC | 3.0 | 3.3 | 3.6 | V |
| Current dissipation | ICC | - | 140 | 196 | mV |
| Power Consumption | PL | - | 0.462 | 0.504 | W |
Backlight Unit (Ta=25±2°C)
| | | | | | |
| --- | --- | --- | --- | --- | --- |
| Item | Symbol | Min. | Typ. | Max. | Unit |
| Current of Backlight Unit | IB | - | 200 | - | mA |
| Voltage of Backlight Unit | VB | - | (9.9) | - | V |
| Power Consumption | PBL | - | (1.98) | - | W |
| LED Life Time(25℃) | - | 40000 | 50000 | - | hr |
LED Driver Unit (Ta=25±2°C)
| | | | | | | |
| --- | --- | --- | --- | --- | --- | --- |
| Item | Symbol | Min. | Typ. | Max. | Unit | Note |
| Voltage of LED Driver Unit | VLED | 11.2 | 12.0 | 12.6 | V | - |
| Current of LED Driver Unit | ILED | - | 180 | 252 | mA | B/L=200mA |
| Current of LED Driver Unit | ILED | - | 130 | 182 | mA | B/L=150mA |
| Current of LED Driver Unit | ILED | - | 80 | 112 | mA | B/L=100mA |
| Dimmer signal Low voltage | VPWML | - | - | 0.2 | V | - |
| Dimmer signal High voltage | VPWMH | 4 | 5.0 | 5.5 | V | - |
| Dimmer frequency | fPWM | - | 120 | - | Hz | - |
| PWM Pulse width | TPWMH | 10 | | | us | - |
| LED Life Time(25℃) | - | 40000 | 50000 | - | hr | - |
Transparent Touch Panel
Item

Min.

Typ.

Max.

Unit

Note

Operating Voltage

-

5

7

V

-

Terminal

Resistance

X-direction

200

-

900

Ω

At connector

Y-direction

200

-

900

Ω

At connector

Insulation Resistance

≧ 20MΩ

at DC25V

Chatting

≦ 10 ms

At connector

Linearity

≦1.5%

-
TFT-LCD Module
Connector: CVILUX CF25331D0R0-05
| | | |
| --- | --- | --- |
| Pin No. | Symbol | Description |
| 1 | GND | Ground |
| 2 | CLK | Clock signal |
| 3 | IHS | Horizontal synchronous signal |
| 4 | IVS | Vertical synchronous signal |
| 5 | GND | Ground |
| 6 | R0 | RED data (LSB) |
| 7 | R1 | RED data |
| 8 | R2 | RED data |
| 9 | R3 | RED data |
| 10 | R4 | RED data |
| 11 | R5 | RED data(MSB) |
| 12 | GND | Ground |
| 13 | G0 | GREEN data(LSB) |
| 14 | G1 | GREEN data |
| 15 | G2 | GREEN data |
| 16 | G3 | GREEN data |
| 17 | G4 | GREEN data |
| 18 | G5 | GREEN data(MSB) |
| 19 | GND | Ground |
| 20 | B0 | Blue data(LSB) |
| 21 | B1 | Blue data |
| 22 | B2 | Blue data |
| 23 | B3 | Blue data |
| 24 | B4 | Blue data |
| 25 | B5 | Blue data(MSB) |
| 26 | TEST1 | TEST1(Please be sure to connect 26pin with ground) |
| 27 | DEN | Input data enable control |
| 28 | VCC | +3.3V power supply |
| 29 | VCC | +3.3V power supply |
| 30 | R/L | Selection signal for horizontal scanning direction. |
| 31 | U/D | Selection signal for vertical scanning direction. |
| 32 | TEST2 | TEST2(to be open, or connected to either GND or Vcc) |
| 33 | TEST3 | TEST3(Please be sure to connect 33pin with ground) |
Backlight Unit
Connector: CVILUX CI1106M1HR0-LF
| | | |
| --- | --- | --- |
| Pin No. | Symbol | Description |
| 1 | VLED | LED drive circuit power supply (12V) |
| 2 | VLED | LED drive circuit power supply (12V) |
| 3 | GND | Ground |
| 4 | GND | Ground |
| 5 | PWM | PWM Dimmer |
| 6 | NC | NO CONNECTION |
Transparent Touch Panel
Connector: CVILUX CF25041D0R0-10
| | |
| --- | --- |
| Pin No. | Symbol |
| 1 | TOP |
| 2 | RIGHT |
| 3 | BOTTOM |
| 4 | LEFT |