4.3" TFT LCD Screen, 480x272 Color TFT, Capacitive Touch TFT
Model No.
VGG482711-H
► WQVGA (480×272 pixels) resolution.
► 24 bit parallel RGB.
► Projected Capacitive Touch
- I2C Interface
- Multi Touch ( Ten points)
- 2048 x 2048 resolution.

VGG482711-H is a 4.3 inch TFT Color LCD that supports TTL RGB interface. It can be operating at temperatures from -20~70℃ and storage temperatures range from -30~80℃. It's available for Touch Screen optional, as well as high brightness option for this model. It is suitable for industrial equipment, handheld devices, embedded system, medical equipment, etc.

EVERVISION offers the rich diversity of mid-size TFT LCD modules, we are sure to have the perfect fit for your application requirements.
Resolution (dots):
480*272
Outline Dimensions (mm):
105.5*67.2*4.7
Brightness Level:
500 ~ 799
Brightness (cd/m²,typ.):
630 / 30khrs typ.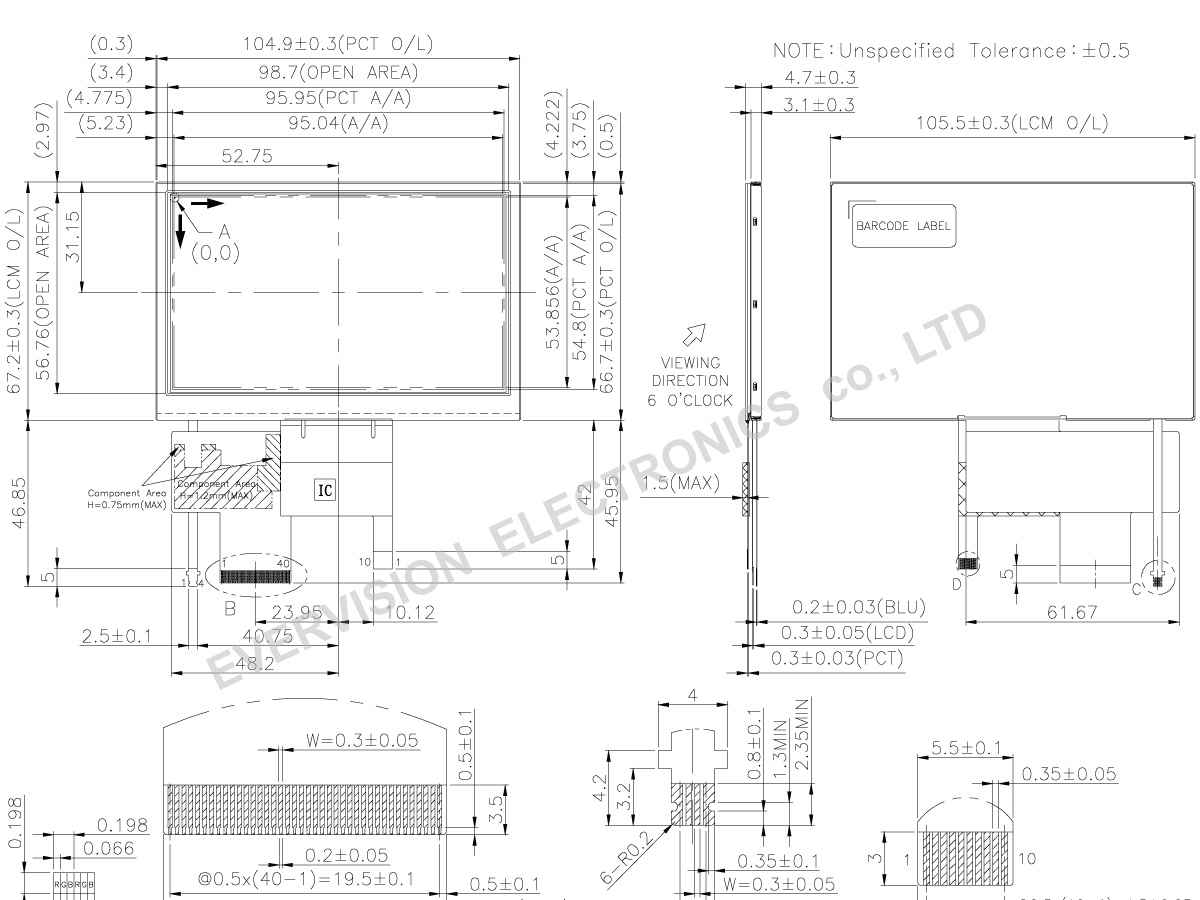 Absolute Maximum Ratings
| | | | | |
| --- | --- | --- | --- | --- |
| Item | Symbol | Min. | Max. | Unit |
| Storage Temperature | TST | -30 | +80 | °C |
| Operating Ambient Temperature | TOP | -20 | +70 | °C |
Electrical Characteristics(Ta=25±2°C)
| | | | | | |
| --- | --- | --- | --- | --- | --- |
| Item | Symbol | Min. | Typ. | Max. | Unit |
| Digital Power Supply Voltage | DVDD | 3.0 | 3.3 | 3.6 | V |
| Input High Threshold Voltage | VIH | 0.7DVDD | - | DVDD | V |
| Input Low Threshold Voltage | VIL | 0 | - | 0.3 DVDD | V |
(GND=VSS=0V)
| | | | | | | |
| --- | --- | --- | --- | --- | --- | --- |
| Item | Symbol | Condition | Min. | Typ. | Max. | Unit |
| Digital Current | IDVDD | DVDD=3.3V | - | 22.8 | 31.92 | mA |
| Total Power Consumption | PC | - | - | 75.24 | 105.34 | mW |
Backlight Unit (Ta=25±2°C)
| | | | | | |
| --- | --- | --- | --- | --- | --- |
| Item | Symbol | Min. | Typ. | Max. | Unit |
| LED Voltage | VL | - | (33) | - | V |
| Current of Backlight Unit | IB | - | 20 | - | mA |
| Power Consumption | PBL | - | (660) | - | mW |
| LED life time | - | 50000 | 60000 | - | Hr |
Projected Capacitive Touch
Item

Symbol

Min.

Typ.

Max.

Unit

Note

Operating Voltage

VDD

3.0

3.3

3.6

V

-

Power Supply Current

IDD

-

12.5

17.5

mA

(1)

Input High Threshold Voltage

VIH

0.7VDD

-

VDD

V

-

Input Low Threshold Voltage

VIL

-0.3

-

0.3VDD

V

-

Output High Threshold Voltage

VOH

0.7VDD

-

-

V

-

Output Low Threshold Voltage

VOL

-

-

0.3VDD

V

-

Power Consumption

PL

-

41.25

57.75

mW

@3.3V

Report Rate

RR

-

60

-

Hz

-

Interface

I2C

-

Function

Multi Touch

-
TFT-LCD Module
(Reference Connector :Hirose Electric CO., LTD. Product No.: FH12A-40S-0.5SH(55) Top contact type)
| | | |
| --- | --- | --- |
| Pin No. | Symbol | Description |
| 1 | VSS | Ground |
| 2 | VSS | Ground |
| 3 | DVDD | POWER SUPPLY(+3.3V) |
| 4 | DVDD | POWER SUPPLY(+3.3V) |
| 5 | R0 | Red data(LSB) |
| 6 | R1 | Red data |
| 7 | R2 | Red data |
| 8 | R3 | Red data |
| 9 | R4 | Red data |
| 10 | R5 | Red data |
| 11 | R6 | Red data |
| 12 | R7 | Red data(MSB) |
| 13 | G0 | Green data(LSB) |
| 14 | G1 | Green data |
| 15 | G2 | Green data |
| 16 | G3 | Green data |
| 17 | G4 | Green data |
| 18 | G5 | Green data |
| 19 | G6 | Green data |
| 20 | G7 | Green data(MSB) |
| 21 | B0 | Blue data(LSB) |
| 22 | B1 | Blue data |
| 23 | B2 | Blue data |
| 24 | B3 | Blue data |
| 25 | B4 | Blue data |
| 26 | B5 | Blue data |
| 27 | B6 | Blue data |
| 28 | B7 | Blue data(MSB) |
| 29 | VSS | Ground |
| 30 | PCLK | Pixel clock |
| 31 | DISP | Display ON/OFF Signal |
| 32 | HSYNC | Horizontal Sync input with negative polarity |
| 33 | VSYNC | Vertical Sync input with negative polarity |
| 34 | NC | NC |
| 35 | NC | NC |
| 36 | NC | NC |
| 37 | NC | NC |
| 38 | NC | NC |
| 39 | NC | NC |
| 40 | NC | NC |
Backlight
(Reference Connector :Kyocera Elco Corporation Product No. : 6298 Bottom contact type)
| | | |
| --- | --- | --- |
| Pin No. | Signal | Functions |
| 1 | VLED- | LED Power Source Input terminal (Cathode side) |
| 2 | NC | No Connection |
| 3 | NC | No Connection |
| 4 | VLED+ | LED Power Source Input terminal (Anode side) |
Projected Capacitive Touch
Connector: CVILUX CF25101D0R0-05
| | | |
| --- | --- | --- |
| Pin No. | Symbol | Description |
| 1 | GND | System ground. |
| 2 | VDD | +3.3V power supply. |
| 3 | /RST | External reset signal, active low. |
| 4 | /INT | Interrupt signal, active low, asserted to request Host start a new transcation. |
| 5 | SDA | I2C data signal. |
| 6 | SCL | I2C clock signal. |
| 7 | NC | Not Connection |
| 8 | NC | Not Connection |
| 9 | NC | Not Connection |
| 10 | GND | System ground. |