4.3" TFT LCD Screen, WQVGA Color TFT, Capacitive Touch
Model No.
VGG482711-H
► WQVGA (480×272 pixels) resolution.
► 24 bit parallel RGB.
► Projected Capacitive Touch
- I2C Interface
- Multi Touch ( Ten points)
- 2048 x 2048 resolution.

4.3 inch TFT display, module size: 105.5x67.2x4.7mm, 630 cd/㎡, Capacitive Touch Screen, Quick Development time, Full documentation provided, 24 bit TTL RGB Interface. VGG482711-H is suitable for industrial equipment, handheld devices, embedded system, medical equipment, etc.

EVERVISION offers the rich diversity of mid-size TFT LCD modules, we are sure to have the perfect fit for your application requirements.
Resolution (dots):
480*272
Outline Dimensions (mm):
105.5*67.2*4.7
Brightness Level:
500 ~ 799
Brightness (cd/m²,typ.):
630 / 30khrs typ.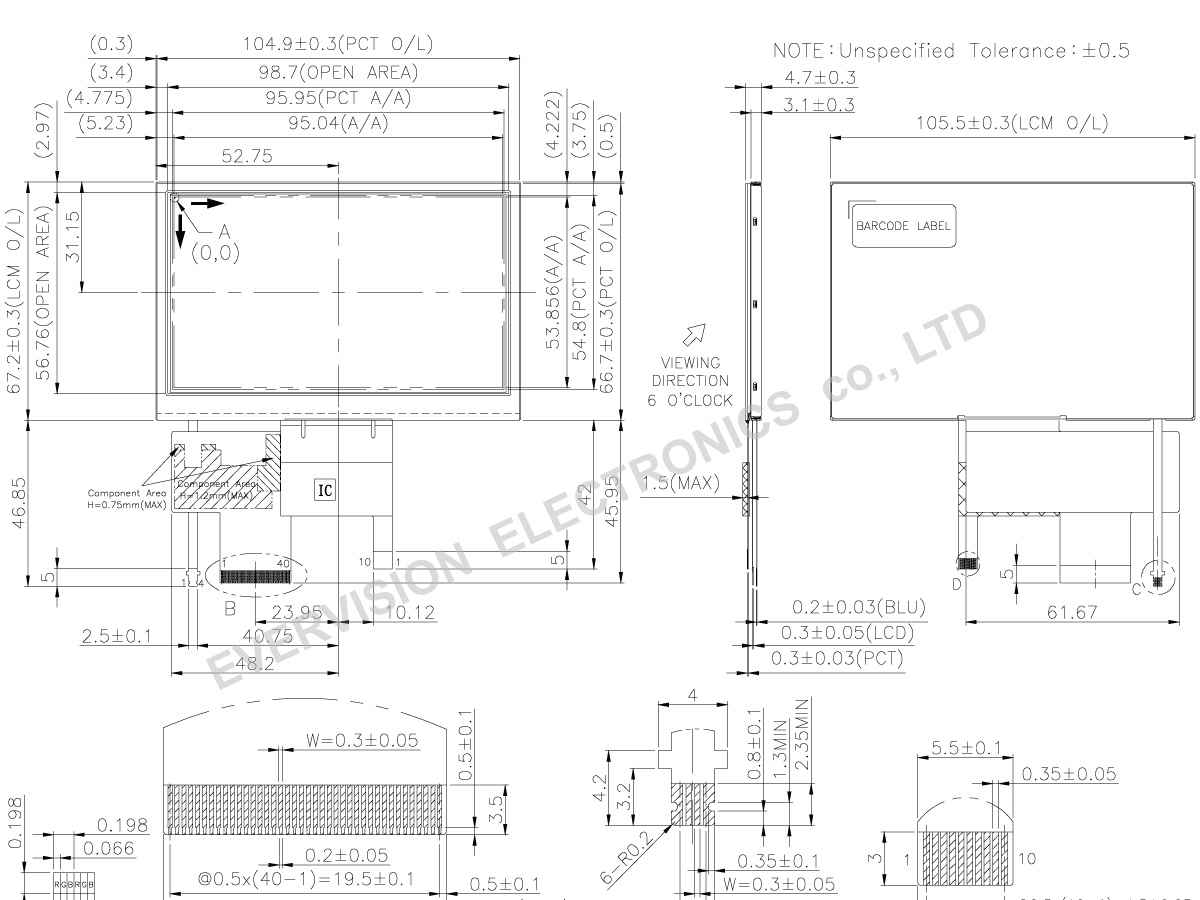 Absolute Maximum Ratings
| | | | | |
| --- | --- | --- | --- | --- |
| Item | Symbol | Min. | Max. | Unit |
| Storage Temperature | TST | -30 | +80 | °C |
| Operating Ambient Temperature | TOP | -20 | +70 | °C |
Electrical Characteristics(Ta=25±2°C)
| | | | | | |
| --- | --- | --- | --- | --- | --- |
| Item | Symbol | Min. | Typ. | Max. | Unit |
| Digital Power Supply Voltage | DVDD | 3.0 | 3.3 | 3.6 | V |
| Input High Threshold Voltage | VIH | 0.7DVDD | - | DVDD | V |
| Input Low Threshold Voltage | VIL | 0 | - | 0.3 DVDD | V |
(GND=VSS=0V)
| | | | | | | |
| --- | --- | --- | --- | --- | --- | --- |
| Item | Symbol | Condition | Min. | Typ. | Max. | Unit |
| Digital Current | IDVDD | DVDD=3.3V | - | 22.8 | 31.92 | mA |
| Total Power Consumption | PC | - | - | 75.24 | 105.34 | mW |
Backlight Unit (Ta=25±2°C)
| | | | | | |
| --- | --- | --- | --- | --- | --- |
| Item | Symbol | Min. | Typ. | Max. | Unit |
| LED Voltage | VL | - | (33) | - | V |
| Current of Backlight Unit | IB | - | 20 | - | mA |
| Power Consumption | PBL | - | (660) | - | mW |
| LED life time | - | 50000 | 60000 | - | Hr |
Projected Capacitive Touch
Item

Symbol

Min.

Typ.

Max.

Unit

Note

Operating Voltage

VDD

3.0

3.3

3.6

V

-

Power Supply Current

IDD

-

12.5

17.5

mA

(1)

Input High Threshold Voltage

VIH

0.7VDD

-

VDD

V

-

Input Low Threshold Voltage

VIL

-0.3

-

0.3VDD

V

-

Output High Threshold Voltage

VOH

0.7VDD

-

-

V

-

Output Low Threshold Voltage

VOL

-

-

0.3VDD

V

-

Power Consumption

PL

-

41.25

57.75

mW

@3.3V

Report Rate

RR

-

60

-

Hz

-

Interface

I2C

-

Function

Multi Touch

-
TFT-LCD Module
(Reference Connector :Hirose Electric CO., LTD. Product No.: FH12A-40S-0.5SH(55) Top contact type)
| | | |
| --- | --- | --- |
| Pin No. | Symbol | Description |
| 1 | VSS | Ground |
| 2 | VSS | Ground |
| 3 | DVDD | POWER SUPPLY(+3.3V) |
| 4 | DVDD | POWER SUPPLY(+3.3V) |
| 5 | R0 | Red data(LSB) |
| 6 | R1 | Red data |
| 7 | R2 | Red data |
| 8 | R3 | Red data |
| 9 | R4 | Red data |
| 10 | R5 | Red data |
| 11 | R6 | Red data |
| 12 | R7 | Red data(MSB) |
| 13 | G0 | Green data(LSB) |
| 14 | G1 | Green data |
| 15 | G2 | Green data |
| 16 | G3 | Green data |
| 17 | G4 | Green data |
| 18 | G5 | Green data |
| 19 | G6 | Green data |
| 20 | G7 | Green data(MSB) |
| 21 | B0 | Blue data(LSB) |
| 22 | B1 | Blue data |
| 23 | B2 | Blue data |
| 24 | B3 | Blue data |
| 25 | B4 | Blue data |
| 26 | B5 | Blue data |
| 27 | B6 | Blue data |
| 28 | B7 | Blue data(MSB) |
| 29 | VSS | Ground |
| 30 | PCLK | Pixel clock |
| 31 | DISP | Display ON/OFF Signal |
| 32 | HSYNC | Horizontal Sync input with negative polarity |
| 33 | VSYNC | Vertical Sync input with negative polarity |
| 34 | NC | NC |
| 35 | NC | NC |
| 36 | NC | NC |
| 37 | NC | NC |
| 38 | NC | NC |
| 39 | NC | NC |
| 40 | NC | NC |
Backlight
(Reference Connector :Kyocera Elco Corporation Product No. : 6298 Bottom contact type)
| | | |
| --- | --- | --- |
| Pin No. | Signal | Functions |
| 1 | VLED- | LED Power Source Input terminal (Cathode side) |
| 2 | NC | No Connection |
| 3 | NC | No Connection |
| 4 | VLED+ | LED Power Source Input terminal (Anode side) |
Projected Capacitive Touch
Connector: CVILUX CF25101D0R0-05
| | | |
| --- | --- | --- |
| Pin No. | Symbol | Description |
| 1 | GND | System ground. |
| 2 | VDD | +3.3V power supply. |
| 3 | /RST | External reset signal, active low. |
| 4 | /INT | Interrupt signal, active low, asserted to request Host start a new transcation. |
| 5 | SDA | I2C data signal. |
| 6 | SCL | I2C clock signal. |
| 7 | NC | Not Connection |
| 8 | NC | Not Connection |
| 9 | NC | Not Connection |
| 10 | GND | System ground. |