【Description】
EVERVISION's LCD Touch Key is an ideal monochrome display solution combining high sensitivity capacitive touch. Our LCDTouch Key (Smart Touch Switch Modules) are used, for instance, in solutions for home automation, white goods and various smart switch devices.
☛ Link to LCD Touch Key Solution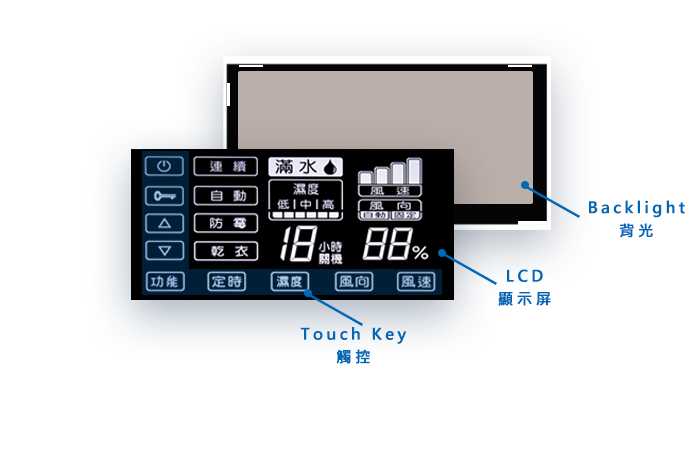 【Features】
LCD Display Driver with Touch Key Function
Higher contrast ratio and wider viewing angle
Support up to 40seg*4com resolution
16 channel touch keys (MAX)
Single Touch (Button/Scrolls/Wheels)
Interface (I2C and SPI)
OT:can support -30℃~+80℃
Up to 8 inch LCD Size
Option

Water Resistance
Glove Touch
Thickness up to 5mm (Materials for nameplate: Mirror Coating/Glass/PMMA…etc.)
【Application】
It's suitable for bathroom controller, air conditioning control switch, smart fan touch switch, industrial products, medical equipment, smart remote control and so on.
We use VA technology for the LCD Panel in the video because it has better viewing angle and high contrast ratio. In addition to VA LCD, it is available for different types of LCD according to customer requirements. Application presentation video below:
✓ LCD Cutting ✓ Capacitive Touch button ✓ Cutomized Design
✓ LCD Cutting ✓ Multicolor Printing ✓ Capacitive Touch button ✓ Cutomized Design