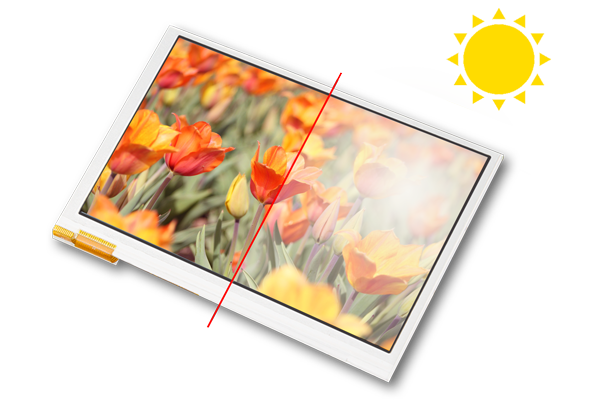 High Brightness Industrial Display
Most standard TFT display and monitors are rated between 200 and 300 (cd/m²). If it installed indoors, these displays are usually of sufficient brightness to be easily read. But for use in outdoor environment or even direct sunlight, you will find that content on TFT displays with normal brightness is often difficult to read. It is difficult to see the screen under direct sunlight because sunlight is much stronger than indoor lighting. To solve this problem, we adjust the design of backlight brightness, enabling to have better performance and extend lifespan of display.
High Brightness / Sunlight Readable
As a solution, EVERVISION high brightness TFT display is visible under strong sunlight and featured with brightness up from 800 to 1800 (cd/m²). Sunlight Readable TFT LCD display modules are available in various sizes including 3.5", 4.3", 5", 5.7", 7.0" 8.0", 10.1"and 15.0 inch. In addition, we support touch panel(PCAP) and other display options. Contact us for more information about sunlight readable display.