LCD Display for Outdoor Applications
Displays are widely used in various industries including industrial automation and healthcare system. Currently, industrial display used in outdoor or semi-outdoor environments is becoming increasingly common in our daily lives such as ATM, gas station and parking ticket machine system. Most outdoor displays will be exposed to high or low ambient temperatures and even in direct sunlight. Therefore, industrial displays must withstand various harsh environmental conditions. The primary concern is visibility in direct sunlight when choosing an outdoor display. Additionally, the thick of glass, display durability and touch sensor sensitivity are also important factors to consider. EVERVISION industrial display solution provides a wide range of reliable display to operate in direct sunlight or various weather conditions. ⋄ Sunlight Readable Solution ⋄ Water Resistant Touch ⋄ Wide Operating Temperature Solution
Choose Display for Outdoor Application
►Stay Visible In Bright Sunlight
It is difficult to read your screen in outdoor or semi-outdoor environments because the strong light reflecting off the screen's surface washes out the display. Our Sunlight readable TFT LCD displays are designed to operate in direct sunlight or bright light conditions. It's featured with brightness up from 800 nits to 1800 (cd/m²). We fully support customized PCAP touchscreen and other display options to meet your requirements. ☛ Sunlight Readable Solution
►Support Wide Operating Temperature
Extremely low or high temperature conditions may cause permanent damage to the display. Our LCD displays provide reliability, durability, and expected longer product life. Sunlight Readable TFT Display Series is qualified under industrial standard and support wide operating temperature range of -20 ~ 70°C. ☛ Wide Temperature Solution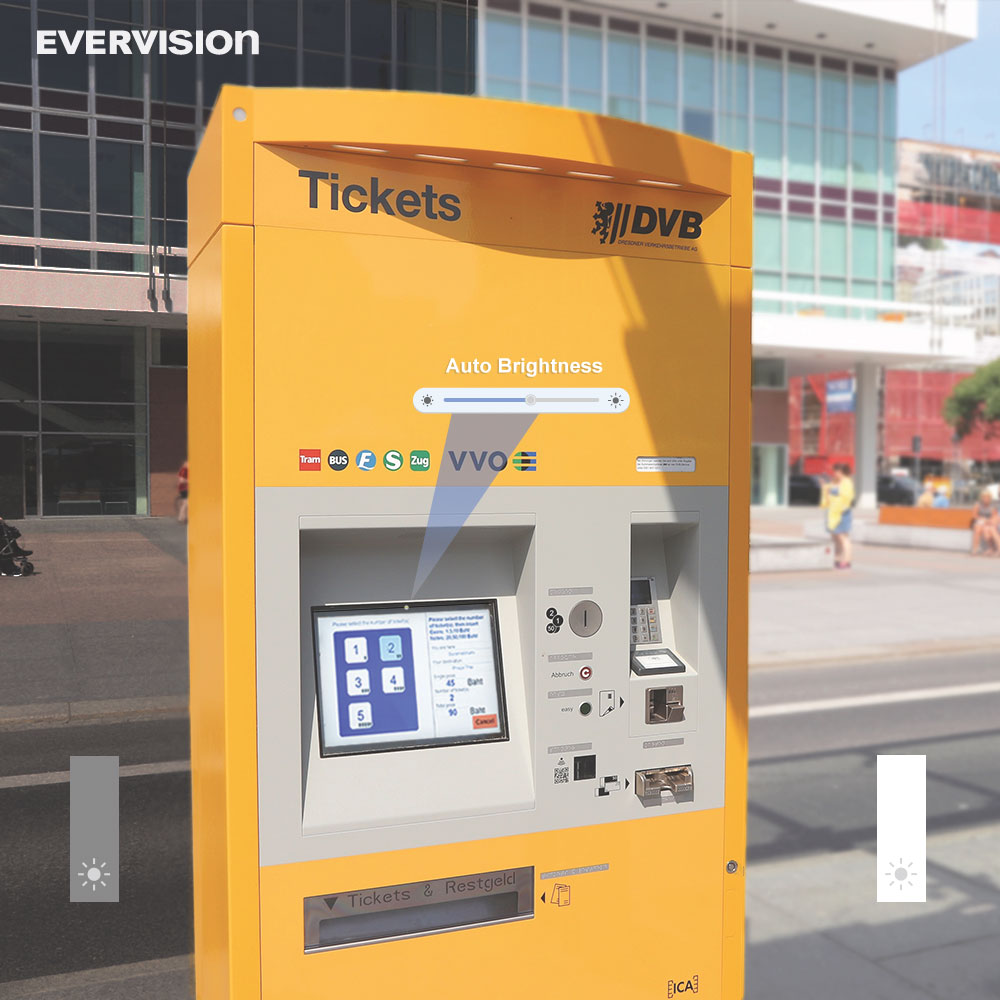 Best Outdoor Display Solution
►
Automatic Brightness Control
Increasing the brightness of LCD backlight will light out the image colors and reduce the contrast ratio. EVERVISION's TFT LCD modules combine the Ambient Light Sensors (ALS) that is commonly used in LCD Backlight Control in mobile phones. It provides precise light detection for ambient brightness and optimizes the display performance.
►
Reduce Power Consumption
High brightness displays result in much greater power consumption. If the backlight brightness is increased, the lifespan of LED may also be reduced and also consequently result in product overheating. EVERVISION's Ambient light adaptive displays can automatically adjust the backlight brightness of LCD panel based on current ambient lighting conditions.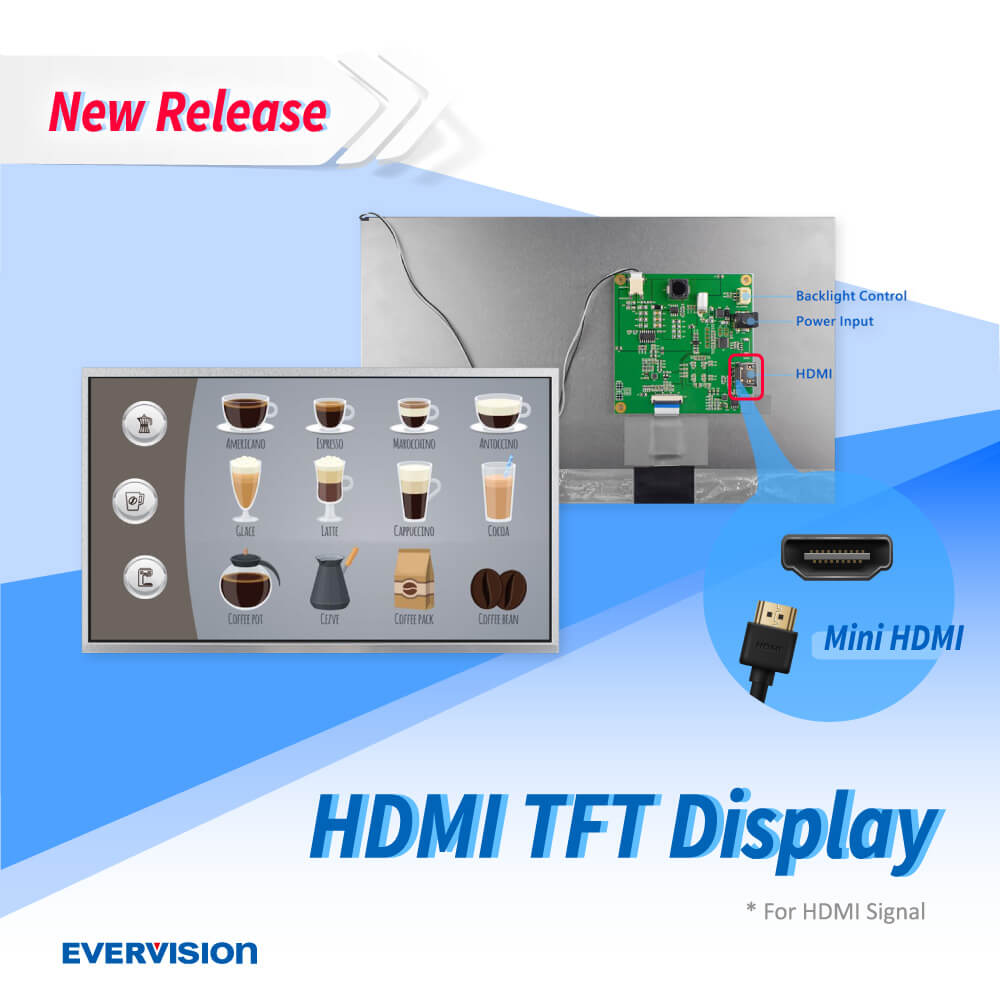 IPS TFT LCD with HDMI Interface
►IPS TFT LCD Display Support HDMI Signal
In this monthly series, our new product launches with IPS TFT Panel, high resolution, wide viewing angle(IPS Panel), and simple wiring used in display applications. It features HDMI interface and USB touch for easy integration and rapid prototyping. It is suitable for outdoor and harsh environments applications, including industrial, medical and marine.
New Products (Support HDMI Signal series):
● 12.1"IPS TFT LCM:VGG128020-C(WV)
● 13.3"IPS TFT LCM:VGG191006-B(WV)
● 15.6"IPS TFT LCM:VGG191005-B(WV)
✦ Touch screen is available depending on your application.
Stay Updated with Us
EVERVISION offers a wide range of display sizes and several types of TFT that are available for different end applications such as outdoor display, medical equipment and measuring instruments. We provide the integrated solution and professional technical support. Stay up to date with our latest news. You'll receive our monthly newsletter, hot products and special events.