LCD Display for Industrial Equipment
The demand for factory automation has an additional boost due to the growing adoption of Industry 4.0 trend, AI(Artificial intelligence) and IoT enabled smart technologies. It's also driving the growth of the industrial display market including LCD display, panel PC, HMI(Human Machine Interface) and embedded system. When it comes to factory automation, TFT LCD display panels and touch screen continue to be in high demand among the various kinds of display panels. Factors such as the increasing requirements of quality products at competitive prices and displays featuring with high brightness, wide operating temperature or touch options. In recent years, industrial TFT-LCD display modules have gained widely use in a variety of industries such as automobile electronics, smart retail and medical devices because of its high quality and stable production environment. Link to Solution-Display for Industrial Application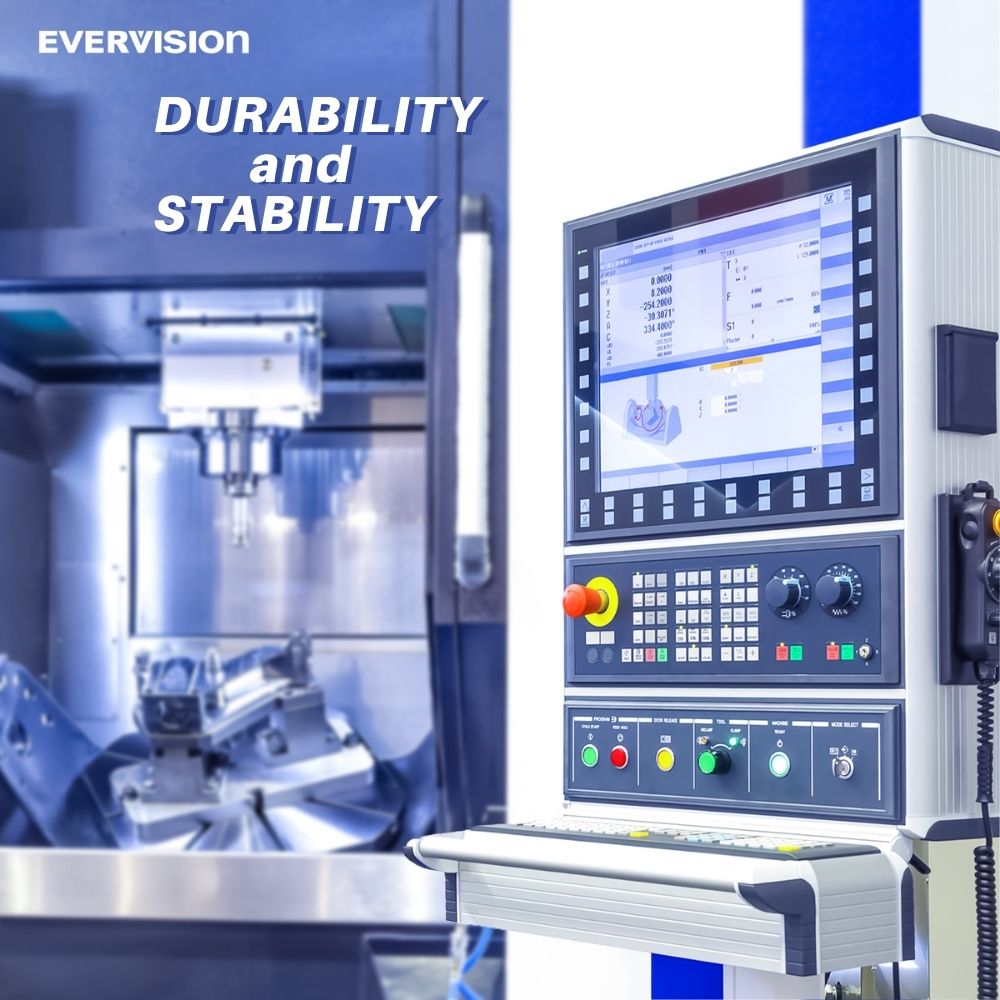 How to Choose the Right Industrial Display
► Long Product Life Cycle
Product life cycles are also typically much shorter in consumer applications beacause of the changing market needs. In contrast, display modules for industrial applications require long product life cycles. EVERVISION is dedicated to offering complete solutions and long product life cycles targeted for the industrial display market.
► Durability & Stability
Both quality and durability are recognized as essential conditions for industrial display. "Stability" is another key selection factor. With EVERVISION industrial display solution, you can count on the highest quality. We designed these monitors for reliable continuous operation in an industrial environment. Moreover, many of our TFT modules have undergone EMI compliance self-tests.
Industrial Display Solution:
Display Solution for Harsh Environment | EMI Compliance Test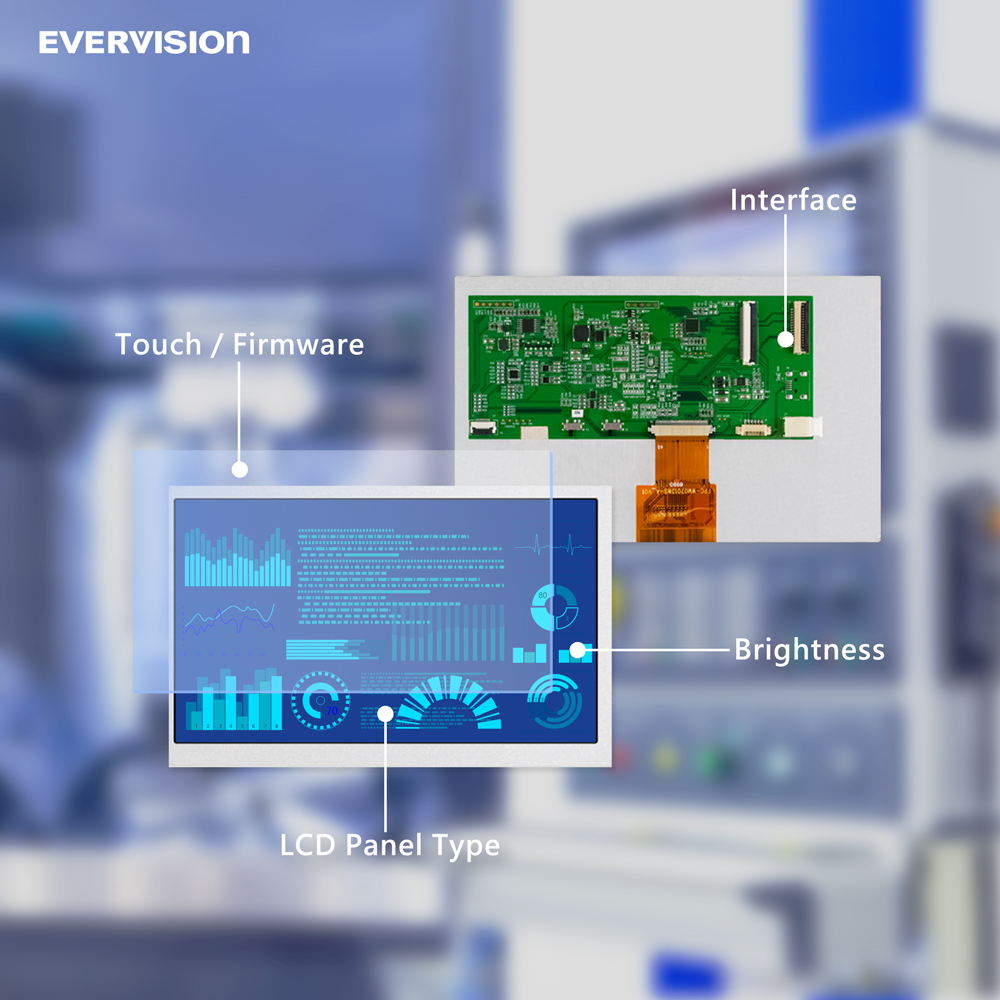 Custom TFT LCD Display Solutions
►
High-Mix / Low-Volume (HMLV)
Industry 4.0 is the current trend of automation in manufacturing technologies and this is the major force pushing the manufacturers into high-mix and low-volume business model. That's why many TFT-LCD manufacturers dedicate to providing optimal solutions to meet the diversified needs of customers.
►
Customized LCD Modules
EVERVISION offers various TFT LCD module, passive matrix LCD technologies and customized service, such as wide viewing angle, wide temperature solution, high contract, sunlight readable technology, interface, driving board, and so on. In addition, we provide optional projected capacitive (PCAP) touch screen and resistive touch screen for the industrial fields. Also, we provide technical advisory service and additional functions, such as water resistant touch, gloves touch and customized CG.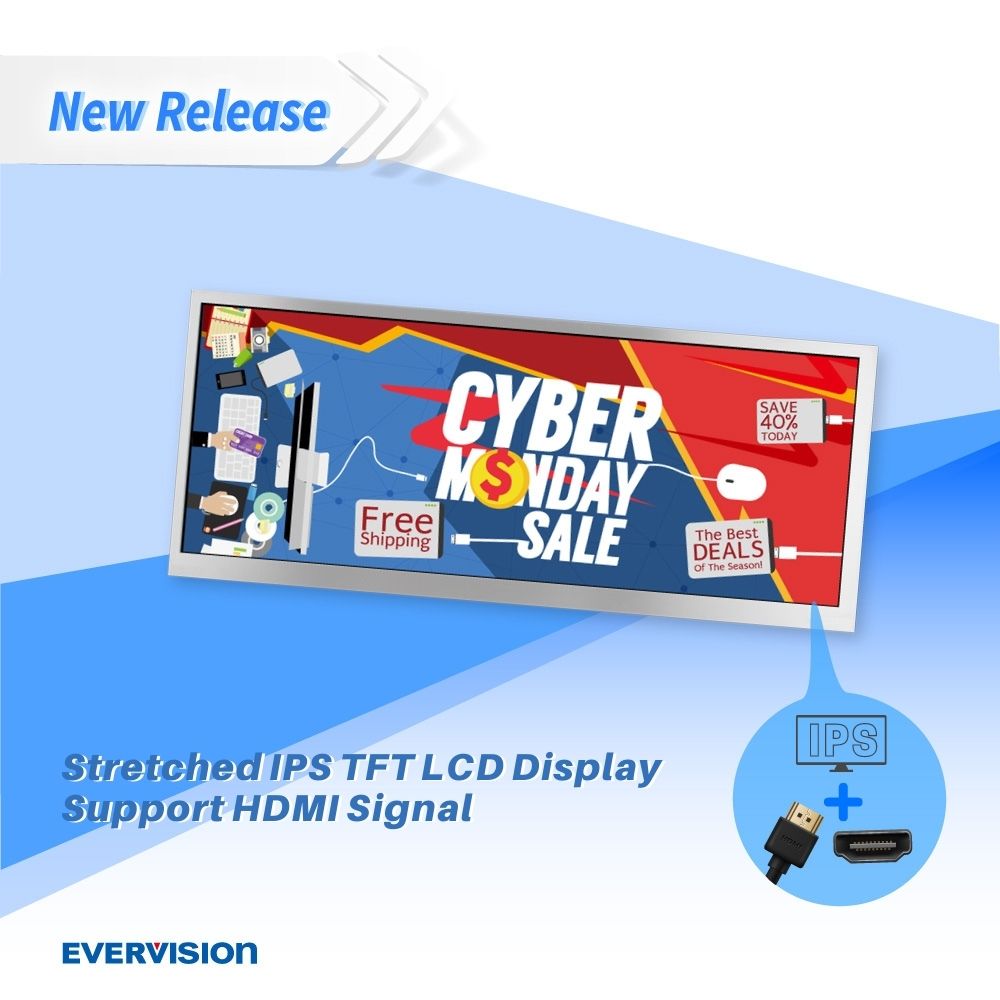 Stretched IPS TFT LCD with HDMI Interface
► Stretched IPS TFT LCD Display Support HDMI Signal
In this monthly series, our new product launches with bar type TFT, high resolution, wide viewing angle(IPS Panel), and simple wiring used in display applications. It features HDMI interface and USB touch for easy integration and rapid prototyping. Stretched displays (sometimes referred to as Bar type or cutting displays) are ideal for retail, public information displays, industrial and automotive instrument clusters.
New Products :
● 10.3"Streted IPS TFT LCM:VGG124804-G
● 12.3"Streted IPS TFT LCM:VGG197202-H
✦ Touch screen is available depending on your application.
Stay Updated with Us
EVERVISION offers a wide range of display sizes and several types of TFT that are available for different end applications such as outdoor display, medical equipment and measuring instruments. We provide the integrated solution and professional technical support. Stay up to date with our latest news. You'll receive our monthly newsletter, hot products and special events.