Displays for Hospital & Medical Application
New COVID-19 variant now has spread across dozens of countries and it believed to spread more easily and quickly than other variants. New variant or not, the novel coronavirus continues to infect millions of people worldwide. As Covid-19 cases continue to rise, it's not the time to let our guards down. In the meantime, keep following precautionary measures to help prevent the spread. In addition, we are deeply grateful to all of the frontline healthcare workers who are working tirelessly to keep our communities safe. As a professional LCD/LCM manufacturer, EVERVISION can quickly provide quotation and assist in arranging the fastest delivery. We offer a wide range of STN/TFT display standard modules for our clients. It's available for medical applications, such as temporal thermometer, pulse oximeter, ventilator, oxygen concentrator, and so on. More information please Contact Us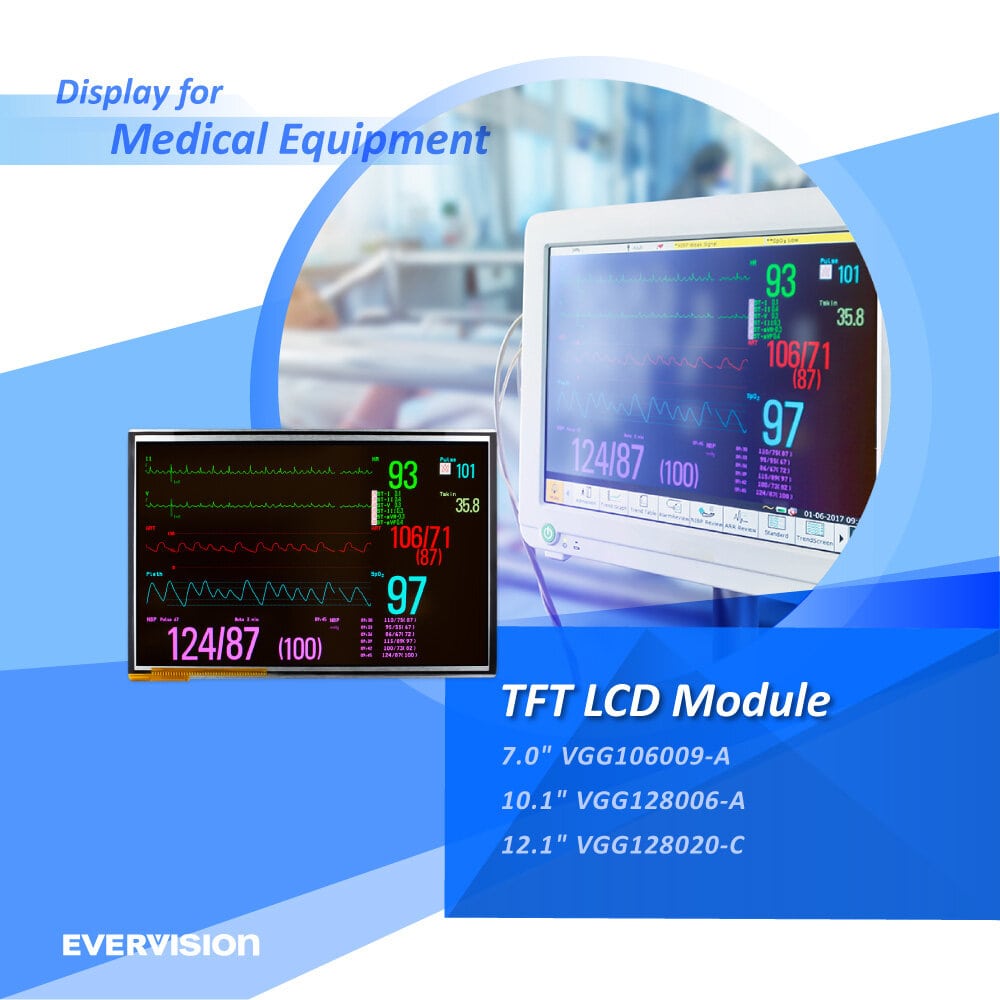 LCD Display for Medical Devices
► Patient Monitor/Medical Monitor
A patient monitor is a medical device which continuously measures patient's vital signs such as heart rate, SpO2, blood pressure, pulse rate, temperature and more. It is one of important devices in healthcare system that enables healthcare workers to track patient's readings instantly and provide better care. And, the vital sign monitor frequently comes with a color display which allows users to clearly see all values.
Our color TFT LCD touchscreen display with a variety of sizes from 7", 10.1'' to 12.1inch and it is suitable for medical devices including patient monitors and ventilators. When it comes to touchscreen, we have two options for clients: Resistive and Capacitive Touchscreen. Moreover, we customize not only brightness, but also cover glass such as chemical strengthening, optical bonding and so on.
Recommended TFT LCD Module :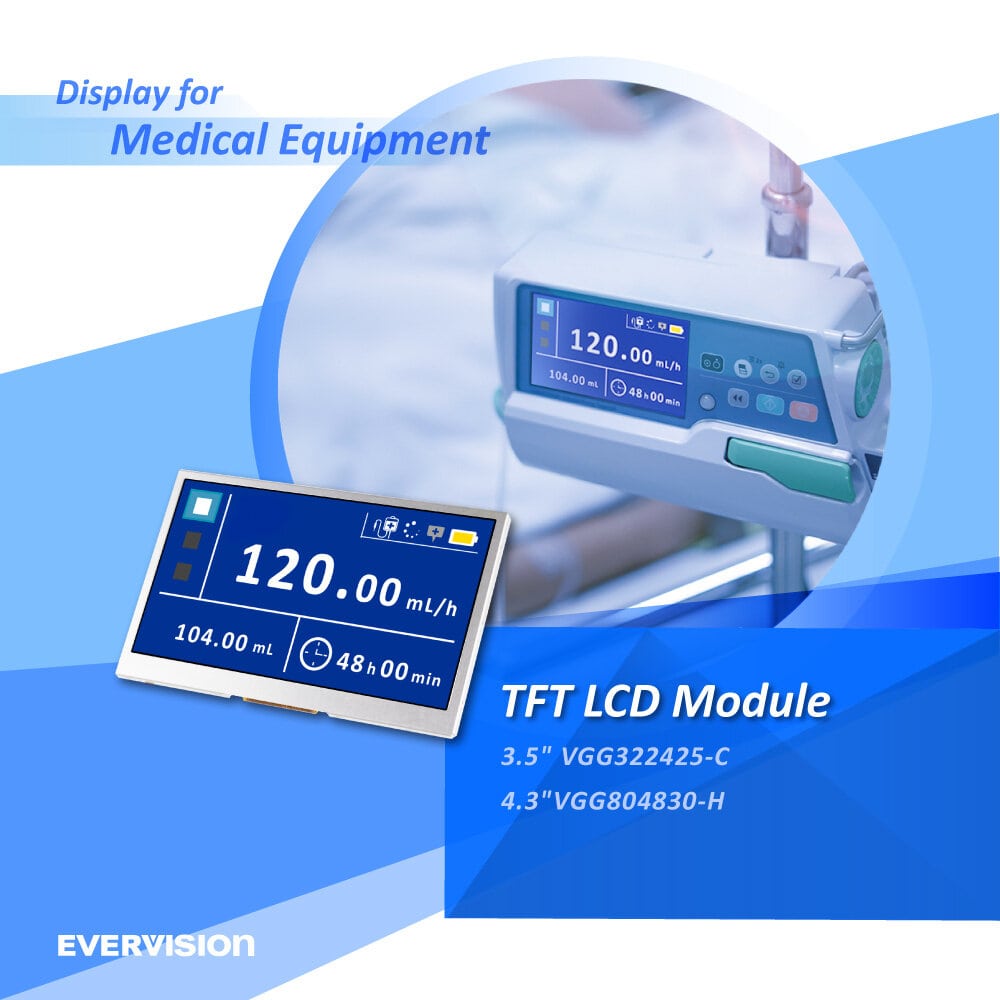 LCD Display for Medical Devices
► Medical Infusion Pump/Syringe Pump
An infusion pump is a medical device that delivers fluids, such as nutrients and medications, into a patient's body in controlled amounts. Many of infusion syringe pumps are equipped with color displays and touch screens because it helps easy setting and operation for user. They are widespread use in clinical and hospital settings.
EVERVISION offers LCD display in various screen sizes such as 3.5", 4.3", 5.7 inch and it is available for touch screen optional (RTP/PCAP). Moreover, our capacitive sensor can prevent the interference caused by mist, droplet, and flow. Users can operate the capacitive touch panel with different types of gloves and and under regular tap water. ☛Link to Gloves Touch Solution
Recommended TFT LCD Module :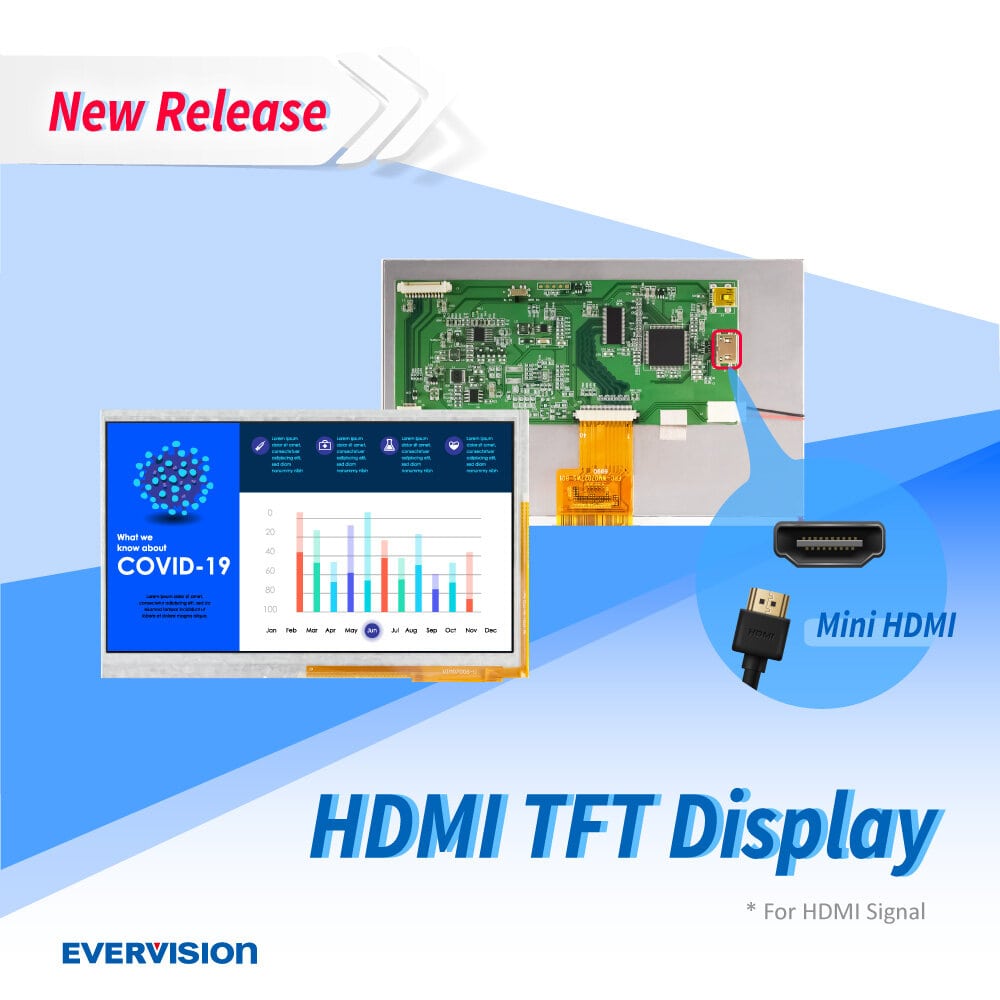 HDMI Interface IPS TFT LCD Modules
► IPS TFT LCD Display Support HDMI Signal
Not only is it about the quality of display we provide, it's important that we ensure our clients to boost product development time and bring products to market quickly with competitiveness. In this monthly series, our new product launches with high resolution, wide viewing angle(IPS Technology), and simple wiring used in display applications. It features HDMI interface and USB touch for easy integration and rapid prototyping.
New Products :
● 7.0"IPS LCM:VGG804833-L
● 10.4"IPS LCM:VGG107620-C
● 12.1"IPS LCM:VGG128020-C
✦ Touch screen is available depending on your application.
Stay Updated with Us
EVERVISION offers a wide range of display sizes and several types of TFT that are available for different end applications such as outdoor display, medical equipment and measuring instruments. We provide the integrated solution and professional technical support. Stay up to date with our latest news. You'll receive our monthly newsletter, hot products and special events.
☛ Subscribe to EVERVISION Newsletter